AC Maintenance
Doing routine maintenance is necessary to keeping your equipment running at peak performance. The goal is to comb through the system and prevent components that will fail in the future. Sometimes the small little fixes prevents larger problems. It's our job to educate the customer about how the ac and heating system works and communicate clearly and properly so the customer understands what needs to be done for optimal comfort and peak performance.
Indoor air quality, comfort and air flow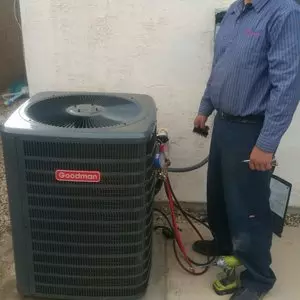 Ductwork is the most crucial part of any heating and cooling system. It determines whether or not the actual ac unit will perform or fall flat on its face. Improper sizing of the ductwork kills comfort in the home.
Without proper size ductwork and proper installation, humidity levels can get out of control and cause huge discomfort.
Indoor air quality can get real bad without proper air flow through the return grill, return box and filter.
The goal is to be able to have the best filter in place so you can actually filter all the air in your home without the cost of decreasing performance and capacity on the ac unit. Almost most of all the homes in phx are under performing due to improper duct sizing.
Besides just filtering the air in the home, you want to be able to have the option for purifying and bringing in fresh air in the house.
The science shows that most homes have worst air quality inside then outside does. A lot of people don't know that. Also majority of people spend most their time in their home. Alot of the time, inside the house has high levels of VOCs and it goes unchecked. Whether that's created by home owners or if it's building materials, either one is bad. That in itself can create alot of health problems that goes undetected.
There is a saying, "you can't manage what you can't measure", and nobody really measures the air quality in the home. We have devices that do exactly that, it measures air quality in real time and goes to an app.
What our company does, is whole house duct modifications. With that service, we provide balanced air flow, we maximize ac equipment performance, which means it runs more efficiently, we optimize unit capacity. We allow for maximum air filtration, we provide quiet air flow and take away the noise but with the result of feeling the air flow. We leave room for added on devises like air purifiers and air quality controls.
Our mission and goal is to bring real comfort and healthy air inside the home so customers can really enjoy being inside the home. We had many customers who hate the summers here because it's so hot and uncomfortable. After we complete our ductwork modifications, our customers are amazed how well everything works and wish that had done it sooner.