Amana ATS4271GT Thermostat Product Review
Today we would like to spotlight one of our favorite products for you! We are constantly checking out new technology in the air conditioning field, and we love to try each product to make sure it will work well for our customers. The aspect of air conditioning technology which seems to change the most often is thermostat design. It seems that every year, there is a new, "must-have" thermostat released. But how do you know if it's really worth your money? We can say that one of our all-time favorite thermostats is the Amana ATS4271GT digital thermostat, which has actually been around for a few years now, proving it can stand up to constant use. This thermostat combines modern technology with wonderful aesthetic elements, and is one of the most user-friendly programmable thermostats available.
Advanced Features of the Amana ATS4271GT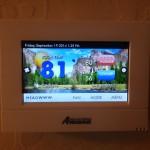 This thermostat is incredibly advanced, featuring a twelve square inch full-color digital screen. When activated, the screen displays a sunny, green field in the daytime, and a moon and star scene at nighttime, with general information, including the set temperature, imposed over the scenery. (We will discuss further customizable options later). The screen can be set to glow softly at all times, or just for the 30 seconds after you are finished adjusting the settings.

The thermostat is fully programmable, ensuring maximum efficiency for your climate controls settings. It is easy to set, providing a menu bar at the bottom, which is another plus for its ease of use-if you can use a toolbar in your computer's Word program, you can program this type of thermostat! And what about adjusting the temperature? The thermostat lights up at a single touch, and features a red "warmer" button to raise the temperature, and a blue "cooler" button to lower it. You don't even have to put on your glasses to adjust the settings!
Customizable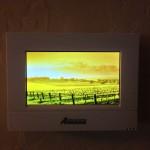 Now for the fun part: For those of you who don't like seeing a small, boring screen on your wall, here is your solution! The Amana includes a port for an SD card, allowing you to upload your very own pictures onto the screen. Your thermostat can be turned into a digital photo frame right on the wall! You can choose your own photo to set as the "wallpaper" of the thermostat. If you don't want to use this option, but also don't care for the sunny field background we mentioned earlier, there are several other beautiful scenes to choose from as well. At the bottom of the screen, the menu bar includes an area for you to add your own message. You can name the thermostat, leave a short note for your spouse, or put up an inspiring quote. Speaking of leaving notes, did we mention the language options yet? This thermostat can be programmed in three languages-English, Spanish, or French.

What if something goes wrong and your air conditioner or heater seems to not be working properly? Don't worry, thanks to one last feature we would like to point out! You can enable the "call-for-service" indicator on the thermostat. If there is an issue with your climate control system, a message will flash, alerting you to call us for a service check. This ensures that you can stay on top of any major problems, and that any needed repairs are made as soon as possible.

The Amana ATS4271GT thermostat is one of our favorite thermostats, thanks to all its useful and fun options. If this review made you interested in getting a new thermostat installed in your home, please let us know. We are happy to help you find the right thermostat, whether you want to upgrade to a model like the one we reviewed, or simply replace your current thermostat with a newer version. Call us today and we can help answer any questions you may have!
Related Posts
Comment for this post has been locked by admin.
By accepting you will be accessing a service provided by a third-party external to https://www.clarkheatandcool.com/