Customer Satisfaction: Why We Love The A/C Business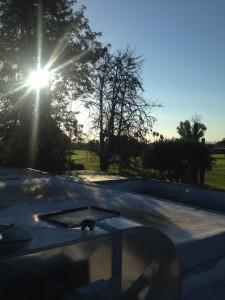 Of course we love air conditioning! How can we not, living in the Valley of the Sun? Air conditioning makes living here bearable, and obviously, it's also our way of life. But we love the trade of air conditioning itself.
We Love Working Outdoors
We love working with our hands and we love the benefits of working outdoors. We are not desk people, but want to be out and about, wiring up units, connecting duct work, and setting units on roofs. Putting in new fuses, sealing up a shiny, brand new unit, and even changing a filter makes us happy. We are interested in thermostats, registers, and metal duct work. The high summer temperatures are tiring, of course, but being one of the few to brave the roof or attic in the dead of summer makes us proud.
Customer Satisfaction is Key
Most of all, we love helping other people. We love being able to track down the issue which is stressing out the homeowner, bringing resolution and positive results. We are not like most companies, chasing down a profit. We aim for perfection and customer satisfaction. Since we are a small business, we are able to offer a fair price. We care about you and your air conditioner. When working on your A/C, we work on it like it's our A/C. We carefully check each component of the unit, noting what parts are working fine and what parts are likely to fail. We give you the prices up front, and do not up-sell. We make recommendations for repairs based on what is best for you. You and your comfort are priority. We don't resort to gimmicks or tricks. It is our goal to keep you informed when we service your air conditioner. If it interests you, we will tell you all about it. If you want to watch us while we work, we will explain every step while you observe. Providing honest, quality air conditioning service is our passion, and we want you to feel part of it! Nothing is better than leaving a job well done.

We are grateful to all our customers, and consider you part of the Clark Heating & Cooling family! We wish you a happy, cool, week!
Related Posts
Comment for this post has been locked by admin.
By accepting you will be accessing a service provided by a third-party external to https://www.clarkheatandcool.com/