Clark Heating and Cooling blog
Clark Heat and Cool is a Phoenix, Arizona based HVAC specialty service company and this blog is to help keep their client, and prospective clients, up to date with changes in the HVAC industry.
Fun Facts About Air Conditioning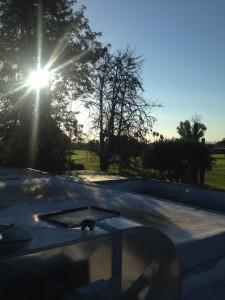 We are well into the summer months in Phoenix, and are more grateful than ever for air conditioning! Here are a few fun facts to celebrate air conditioning:
Air conditioning makes desert areas livable and profitable!
Thanks to A/C, large cities in the southwest are able to exist, bringing economic benefits to their states. Otherwise, all large, economically powerful cities would be located in the northern region of the United States, and the natural resources in the warmer climates would be under-utilized.
Air conditioning keeps computer equipment running.
Most businesses have a server room for their computer equipment, which generates a lot of heat. A/C is necessary in these server rooms to ensure that the server doesn't overheat and cause the computers to crash. This is especially vital for businesses such as banks or hospitals.
A man named Willis Carrier was the inventor of air conditioning.
He came up with the general idea of A/C in 1902 in order to help a publishing company in New York. The publishing company complained that high humidity and stuffy air caused damp paper and slow-drying ink, leading to smudges and inefficiency. A way to keep the printing press area cool and dry would help solve this problem, and Carrier developed a machine to meet this need. Carrier patented his first A/C design in 1906, and continued to improve on the model, and today, one of the main air conditioner manufacturers still bears his name!
Movie theaters were the first commercial buildings to use air conditioning!
They specially advertised this feature to their customers, and in hot climates (like the Valley), movie theaters remain one of the top favorite summer escapes!
Air conditioning can be traced back to ancient Egypt.
Large jars were filled with water and slaves were commanded to wave palm fronds back and forth above the mouth of the jar, producing a breeze to cool their Pharaoh. Damp reeds or cloth strips were also hung in window openings, causing a cooling effect when the wind blew through.

Stay cool this summer! If your air conditioner isn't feeling cool enough, don't hesitate to call Clark Heating & Cooling at 602.793.2477!
Like us on Facebook!
Stay Informed
When you subscribe to the blog, we will send you an e-mail when there are new updates on the site so you wouldn't miss them.
Comment for this post has been locked by admin.