Clark Heating and Cooling blog
Clark Heat and Cool is a Phoenix, Arizona based HVAC specialty service company and this blog is to help keep their client, and prospective clients, up to date with changes in the HVAC industry.
Freon: The Key to Cool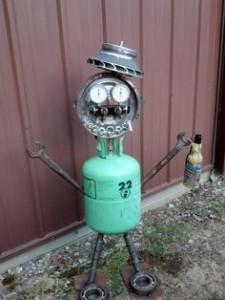 Even though it's over 100 degrees outside, the inside of your house is a nice, cool temperature, thanks to your air conditioner. Have you ever wondered how your A/C produces cold air?
The answer is Freon!
Freon is a cooling substance that runs through the A/C unit, and is a chemical made of carbon, hydrogen, chlorine, and fluorine. The word "Freon" is actually a name brand for a type of refrigerant. This substance is non-toxic, non-flammable gas. It's perfect for use in air conditioners, as it is easily changed from a gas to a liquid, using heat and compression. It's stored in gas form in a container that looks similar to a helium tank. Back in the mid-1990's, scientists determined that Freon may be contributing to the disintegration of the ozone layer, so the chemical composition was changed a bit to become more environmentally friendly.
How Freon works
This is a quick, basic overview of how Freon works inside the air conditioning unit in order to cool your house:

1) Freon is compressed to a high pressure gas and then condensed into a high pressure liquid in the A/C unit's condenser coil.

2) It switches to a low pressure liquid in the evaporator coils.

3) The Freon is switched back to a low pressure gas as the unit's blower motor forces the air across the coils, circulating the now-cool air into your house.

4) The lower pressure gas returns to the compressor, and the process starts all over again!

If your A/C seems to be blowing warmer air than usual, the Freon may need to be recharged or there may be a leak somewhere in the unit. Ideally, Freon should always be in the system and it doesn't need to be topped off every year. Be watchful for companies who offer to add Freon yearly.
Check your Freon
Do you have a thermometer? You can check the Freon yourself! Hold the thermometer up to the air coming out of the air register and note the temperature. Then, hold the thermometer up to the air where the filter grill is, and note that temperature. There should be at least an eighteen degree difference, with the warmer temperature being by the filer grill.

If it seems your A/C is not working up to par and you would like us to check for any possible Freon issues, please call us and schedule a service visit today!
LIKE us on Facebook!
Stay Informed
When you subscribe to the blog, we will send you an e-mail when there are new updates on the site so you wouldn't miss them.
Comment for this post has been locked by admin.