Clark Heating and Cooling blog
Clark Heat and Cool is a Phoenix, Arizona based HVAC specialty service company and this blog is to help keep their client, and prospective clients, up to date with changes in the HVAC industry.
Air Duct Cleaning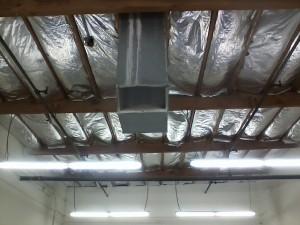 What is air duct cleaning? And is it necessary? We hear these questions often, and even though Clark Heating & Cooling does not offer air duct cleaning services, we would like to discuss the pros and cons of this type of cleaning.
It's Dusty in the Desert
Due to our extremely dusty climate, it makes sense that everything in your home will need to be thoroughly cleaned or dusted at some point. This includes your air ducts, which allow outside air to come into your home. Many people who experience allergy problems have noted significant relief from symptoms after an air duct cleaning. Some people claim it improves the air flow from their air conditioner, letting them set their thermostat to a higher temperature and save energy.

Despite these testimonials, the EPA states there is not enough scientific evidence to advocate for air duct cleaning. According to their recommendations, duct cleaning should absolutely be done when mold or pests are an issue in the home.
Change Air Filters Monthly
When it comes to efficient, clean air flow, it is important to make sure you are changing your air filters every month during the summer. The air filters trap dust, pollen, and other debris that comes into your home though the air ducts. Changing the filters also keeps the air flow from being restricted. After a month, the dust can begin to build up on the filter and cause your A/C to run inefficiently.
Regular Maintenance
Regular maintenance is also very important to make sure all parts are working as efficiently as possible, and that foreign objects are not finding their way into the unit. Dust storms can clog up the air conditioner's coils and blower motors. This means much of the dust is caught before it gets into the ducts, but causes the A/C to work inefficiently or to break down completely.

If you have severe allergies, many pets, or are a heavy smoker, you might consider having your air ducts cleaned. If you like, you can check your air ducts yourself! Get a screwdriver, and remove the register that covers the air duct. If you see mold, large chunks of debris, or dust balls (or even pests!), this would be an indication of a needed cleaning.

Fortunately, mold is not a common occurrence in our climate, and regular maintenance should take care of any dust issues. During your preventative maintenance service, we will definitely inform you if there is any serious contamination or anything else that might require serious cleaning.

At Clark Heating & Cooling, we treat your A/C like ours, meaning that we leave everything sparkling clean. Contact us today for a preventative maintenance service to ensure that your A/C is clean and working at its highest performance!


Please LIKE us on Facebook!
Stay Informed
When you subscribe to the blog, we will send you an e-mail when there are new updates on the site so you wouldn't miss them.
Comment for this post has been locked by admin.