Dave Clark - Founder Of Clark Heating & Cooling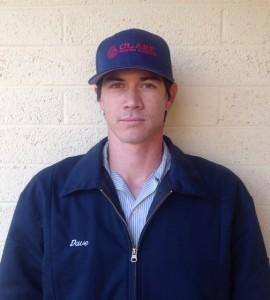 Did you ever wonder how Clark Heating & Cooling got its start? David Clark is the owner/operator of the company, and thanks to his hard work, his dream of starting his own air conditioning company became a reality a little over four years ago. Let's get to know Dave!
Aloha!
Dave was born and raised on Maui, Hawaii. His family can trace their roots back to immigrants who came from China to work in the Hawaiian cane fields in the 1800's. Despite his family history of living the island way for generations, Dave decided he wanted change. When he was in high school, recruiters from Universal Technical Institute visited his class and explained how one can make a great career in Arizona by entering into the HVAC trade. Since Dave always liked working on mechanical things, he was immediately interested, and signed up to move to Phoenix after graduation.
Dave Clark Moves to Phoenix
When he arrived in Phoenix, Dave was taken aback by the busy lifestyle and the hot, dry, dusty climate, but went right to work on his studies. The HVAC program took ten months, and upon completion, Dave was hired by Western Mechanical. This company provided him with the foundation to learn how to properly complete air conditioning installations on residential buildings. Dave soon became more interested in the service side of air conditioning, which includes checking and fixing air conditioners. After three years of invaluable training with Western Mechanical, he moved on to work with Mason Mechanical. He joined their service department and quickly became one of the most requested service technicians.
Clark Heating & Cooling Opens for Business
After seven years gaining further experience in the field, Dave decided it was time to take the step to start his own business. He successfully passed all licensing testing on the first try, and Clark Heating & Cooling was founded. It is important to Dave to treat customers as he would like to be treated. The company's mission statement reflects this mindset:

"Clark Heating & Cooling is dedicated to providing honest, reliable, accurate, and efficient climate control services, offering our customers the highest level of professional service, ensuring work is done right the first time. We provide service to keep the heating and/or cooling system working at peak performance, and make any recommendations for upgrades or repairs, only if necessary. We work for the customers as if we are working on our own homes-no unnecessary recommendations, no upselling on repairs, and on-time service."
Thanks to our customers and their willingness to refer us to their friends, Clark Heating & Cooling has had a successful start, and is seeking to become the go-to company for Glendale's climate control needs.
Related Posts
Comment for this post has been locked by admin.
By accepting you will be accessing a service provided by a third-party external to https://www.clarkheatandcool.com/